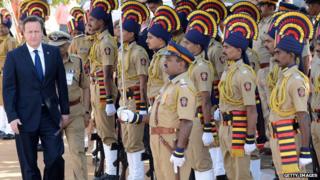 British Prime Minister David Cameron has started an important three-day visit to India to promote trade between the two countries.
He's taken a large group of British business leaders along with him too, hoping his visit will increase the amount of trade that goes on between the UK and India.
Despite lots of poverty in India, it is one of the rising economies in the world which is why David Cameron hopes to create one of "the great partnerships of the 21st century".
During his visit he'll meet the Indian President and Prime Minister as well as meeting with business leaders.