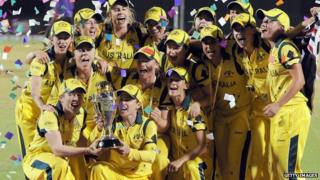 Australia have batted their way to victory winning the Women's Cricket World Cup for a record sixth time.
The team played superbly beating runner ups West Indies by 114 runs.
Australia took the World Cup title away from previous winners England, who were knocked out earlier in the championships.
It's the first time Australia holds all three of women's cricket's major titles simultaneously: World Twenty20, the Ashes and now the World Cup.
Did you know?
- The first women's world cup was held in 1973, that's two years before the first men's tournament.
- It's the 40th anniversary of the competition, which has been played 10 times now.