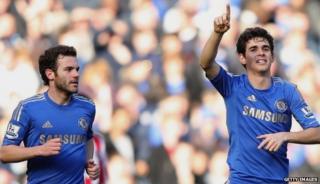 Chelsea are through to the fifth round of the FA Cup after beating league One side Brentford 4-0.
It was a shaky first half for the Blues but Juan Mata broke the deadlock ten minutes into the second half.
Emboaba Oscar made it 2-0 with a fine finish from close range before Frank Lampard and John Terry put the game to bed.
New signing Demba Ba played with a broken nose and sporting what looked like a superhero mask.