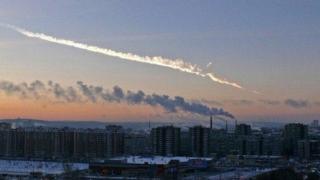 Ricky's been finding out more about the meteorite strike
A meteor has fallen over Russia - injuring 500 people and damaging buildings.
Most of those people hurt only suffered minor cuts and bruises but windows were blown out of buildings.
A fireball was seen racing through the sky above the Russian city of Yekaterinburg, followed by loud bangs.
Reports say that the meteor landed in a lake near Chebarkul, a town in the neighbouring Chelyabinsk region.
Thousands of rescue workers have now arrived in the area to provide help.