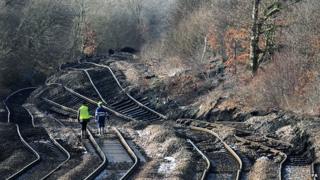 A massive landslip has caused chaos on a section of railway in South Yorkshire, after the ground bulged up and buckled the tracks.
Train services in the area near Doncaster will be suspended for at least eight weeks, say Network Rail, who run Britain's rail tracks.
They say an "enormous" spoil heap at a nearby coal mine in Hatfield is "pushing up the track".
The landslip lifted up a section of railway track and is still moving.
Buses will replace trains in the area for the next two months, until the heap is stabilised and the track repaired.
'Enormous task'
The workers at the coal mine will have to stop the heap from moving before the tracks can be repaired by Network Rail.
Rachel Lowe from Network Rail said: "This is an absolutely enormous task. We will have to re-lay the whole area."