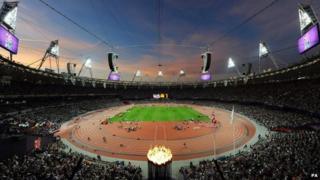 The Olympic Stadium in London will host three days of sporting action this summer - with a day of para-athletics.
Last month it was announced that the Stadium would host a big two-day athletics event, the London Grand Prix.
But now an additional day of para-athletics will follow straight after - the first time this has happened.
The whole event will be called the London Anniversary Games, and it's designed to celebrate the huge success of the London 2012 Games.
'We can fill the stadium'
Double Paralympic gold medallist Hannah Cockroft, who won the T34 100m and 200m titles in London, is confident the event will be popular.
She said: "It's really exciting. We know we can fill that stadium - we did it with 80,000 people in two sessions a day for 10 days.
"We can fill the stadium one more time and if we can do that it shows the interest is still there.
"That's a real challenge for us now to see if people are still interested in what we're doing. It's fantastic that we're getting the opportunity to try that out and I guess that's where the whole world will see if the legacy has worked."
In 2017 the Olympic Stadium will host the Paralympic Athletics World Championships just one month before the World Athletics Championships. It'll be the first time a city has hosted the two championships in the same year.