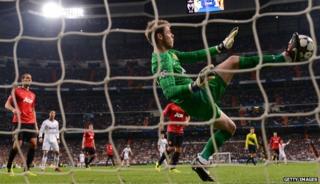 Manchester United managed to hold Real Madrid to a 1-1 draw in the first leg of their last-16 Champions League clash.
United goalkeeper David de Gea was the hero for the Red Devils - making a string of out of this world saves and keeping them in the tie.
Danny Welbeck gave Sir Alex Ferguson's side an early lead and a crucial away goal but former United legend Cristiano Ronaldo scored a header to draw Real level before halftime.
Both sides created opportunities in the second half and United striker Robin van Persie had a shot cleared off the line.
It was a fair result but United fans will be happier because they have a slight advantage with the away goal.
The second leg will be played at Old Trafford at the beginning of March.
Newsround's man of the match: David de Gea
Match rating: 8/10