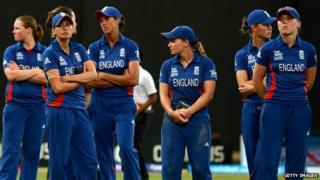 England's cricketers are out of the Women's World Cup after West Indies beat Australia to bag a place in the final.
A West Indies defeat would have given England the chance to reach the final by beating New Zealand on Wednesday.
But the Australians, who had already reached the final, lost four wickets for 10 runs and were all out for 156.
The result means England's current game against New Zealand no longer matters.
The team now heads home early, having lost their world title.
England and Wales Cricket Board managing director Hugh Morris said there would be a review of the team's performance in India.
"We expect success because we've got some outstanding female cricketers," he said.