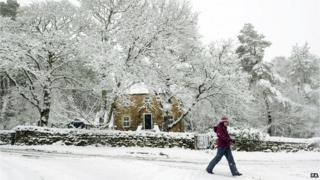 More snow has been falling across the UK with yellow weather warnings in place for parts of northern England, Wales and Scotland.
Experts say the bad weather is what's left over from snowstorm Nemo, which caused chaos in America.
Having travelled across the Atlantic Ocean to the UK the storm is now much weaker and full of rain.
Rain later on Wednesday is forecast to clear the snow by evening.
The heaviest snow falls are expected in Scotland, where parts of the country could see up to 15cm of the white stuff.
People have been advised to take care if they're out and about travelling.
A number of schools have been closed in Dumfries and Galloway.
Freezing rain
BBC weather presenter, Simon King told Newsround:
"Snow will move across Scotland, Northern England and the Midlands today where, for some over the hills, there will be a lot of it sticking by the end of the day."
"There is also the chance of some freezing rain in Eastern England this evening which can be very dangerous as it's rain that freezes when it hits roads, pavements and cars creating very icy conditions."
"The snow and ice won't last for long though as milder weather and rain sweep in overnight."