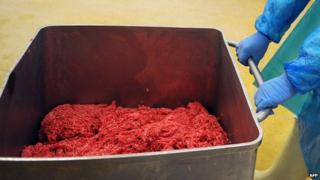 The Food Standards Agency has said it won't stop investigating until it finds out whether claims of horsemeat being passed off as beef in the UK are true.
It comes after two meat firms were raided by police on Tuesday.
Peter Boddy Licensed Slaughterhouse, in West Yorkshire, and Farmbox Meats Ltd, in Aberystwyth, have stopped their work while investigations are carried out.
The West Yorkshire plant is thought to have supplied horsemeat to the Aberystwyth plant.
It's alleged this meat was then sold on as beef for kebabs and burgers but both companies deny any wrongdoing.
All meat found in the plants has been seized by the Food Standards Agency (FSA) so tests can take place.
'Absolutely shocking'
The man in charge of food in the government, Environment Secretary Owen Paterson said: "This is absolutely shocking. It's totally unacceptable if any business in the UK is defrauding the public by passing off horsemeat as beef."
The latest news came as Mr Paterson held another meeting with the FSA, supermarkets and food producers to talk about the horsemeat scandal.
Meanwhile, Waitrose supermarkets have taken their Essential British Frozen Beef Meatballs off the shelves after pork was found in two batches.