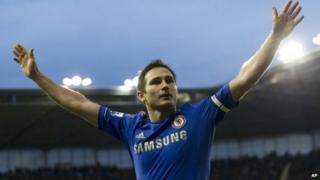 A publisher's announced that England and Chelsea footballer Frank Lampard is to write a series of children's books.
The midfielder turned author will come up with five books, called Frankie's Magic Football, for children aged five and above.
The stories will follow the adventures of a school boy, Frankie, his football-loving friends, and pet dog Max.
Lampard said the stories were "loosely based on friends and team mates".
The 34-year-old will publish his first book, Frankie Versus The Pirate Pillagers, in June, followed by two more this year and another two in 2014.
"I first had the idea of Frankie and his Magic Football when reading stories to my own children," he said.
"Sport and reading are two essentials for us at home, so I decided to make up my own football stories and adventures."