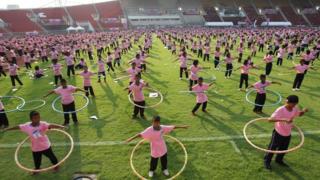 Hula hoop record
Nearly 5,000 people set a new world record in hula hooping in Bangkok, the capital of Thailand, on Tuesday.
The event was organised by the Thai government to try and encourage people to keep fit.
The contestants swung their hula hoops continuously for seven minutes at an open air stadium.
Around 500 contestants dropped out of the challenge after they failed to keep their hoops up.