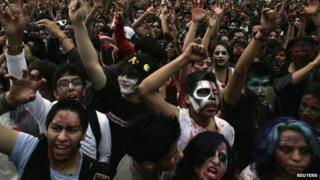 People watching a TV channel in America got a bit of a shock when a news alert came on warning of zombies.
Viewers tuning into KRTV in Montana heard a man's voice saying that "the bodies of the dead are rising from their graves".
The channel later said that somebody had hacked into its system.
Some people took the joke seriously though. There are reports that police received phone calls to see if it was true.
'No emergency'
On its website, KRTV posted a note saying: "Someone apparently hacked into the Emergency Alert System and announced on KRTV that there was an emergency in several Montana counties."
"This message did not originate from KRTV, and there is no emergency."