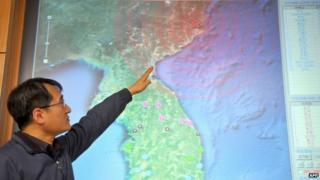 North Korea says it has carried out an underground nuclear test, a move that's angered other countries.
It came to light after a strong earth tremor was detected in the country.
The US, South Korea and Japan had all warned North Korea not to go ahead with the test.
The United Nations, an organisation that works for peace between countries, had also said that North Korea would face "significant consequences" if it carried out more nuclear testing.
Emergency meeting
People are worried about North Korea as it's thought the country is trying to develop powerful nuclear weapons.
North Korea said the nuclear test was to "to protect our national security".
An emergency meeting will take place in New York on Tuesday for representatives of the United Nations Security Council to decide how to respond to what North Korea has done.