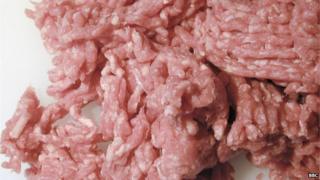 The man in charge of food in the government, Environment Secretary Owen Paterson, is to hold a big meeting on Tuesday to talk about the horsemeat scandal.
He'll meet with the Food Standards Agency, who monitor the quality and safety of our food, and representatives from the food industry.
Mr Paterson told parliament on Monday that it looked like "criminal activity" had led to horsemeat being passed off as beef.
Over the last few weeks, horsemeat has been found in several processed meat products sold in big shops in the UK.
On Monday, Tesco took its Everyday Value spaghetti bolognese off the shelves, after some of the packets were found to contain 60% horsemeat.
More testing
Mr Paterson said there were plans to test all processed beef in the UK and that testing should take place every three months.
He added that there could be "more bad news" about horsemeat when the results of the latest tests are revealed on Friday.
Shops have agreed to carry out tougher tests of their beef products in future.
To find out more about the horsemeat scandal, check out Ore's report.