The horsemeat scandal might have left you a bit worried about where your food comes from and how it gets into the UK.
It's led to processed food being taken off the shelves of shops in Britain, France and Sweden and caused governments to hold emergency meetings.
From farm to plate our food often takes a long and complicated journey through many different countries.
The investigations now taking place are looking into how that process led to horsemeat getting into some meals.
No health risk
On Monday, UK Environment Secretary Owen Paterson said he'd been talking to Romanian, Irish and French ministers about the horsemeat scandal.
Romania's prime minister denied allegations that two companies in his country passed off horsemeat as beef, selling the meat to other European countries.
He said the reports made him "very angry".
At the moment there are no plans to ban imports of meat from EU countries into the UK as the government says there's currently no risk to human health.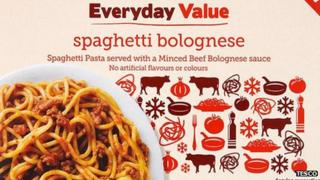 Tesco
More horsemeat
Tesco confirmed on Monday that tests on its Everyday Value Spaghetti Bolognese have revealed high levels of horsemeat.
The meal was made at the same French factory which produced the Findus beef lasagne which triggered the latest alert.
Tesco has apologised to its customers and said it's testing more products to make sure people know what they're buying.