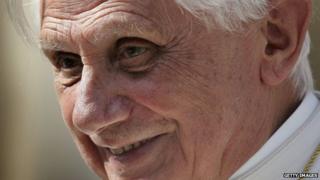 From presidents and prime ministers to everyday Catholics, people have been paying tribute to Pope Benedict XVI.
He's announced he's giving up the job of Pope after eight years, saying he's too old and weak to keep going.
The government in Germany - where the Pope was born - said he deserved "respect" and "gratitude" for his work.
Italy's Prime Minister Mario Monti said he was "greatly shaken by this unexpected news".
Father Federico Lombardi, a spokesperson for the Vatican, the Pope's headquarters, said that even the Pope's closest friends didn't know what he was planning to do and were left "incredulous".
He added that the decision showed "great courage" and "determination".
Trip to Britain
UK Prime Minister, David Cameron said the Pope's visit to Britain in 2010 "is remembered with great respect and affection".
"He will be missed as a spiritual leader to millions," he added.