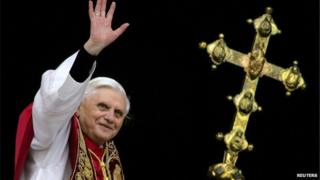 The Pope is seen as the successor to Saint Peter, one of the Christian Church's early leaders and one of the 12 apostles of Jesus.
There have been popes since the early days of the Christian faith.
What does the Pope do?
The Pope is leader of the Catholic Church, the world's largest group of Christians.
His decisions affect over a billion followers around the world.
He's also in charge of the world's smallest country. It's called Vatican City.
The Vatican is so small that it's inside Rome, the capital city of Italy.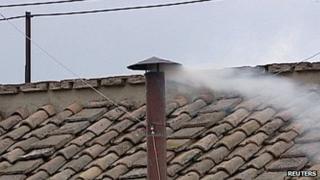 How is the Pope chosen?
Usually a Pope is in the job until he dies and then the Catholic Church's most important priests, called cardinals, vote to decide who should be their new leader.
They meet together in the Vatican for the voting, which is very secretive.
Each cardinal gets one vote and a person can only become the Pope if they get more than two thirds of the votes cast by the cardinals.
The results are sent to people outside the Vatican using smoke signals. Black smoke means the cardinals haven't made up their minds yet.
White smoke means they have chosen a new Pope. The bells in the church of St Peter's Basilica will also ring.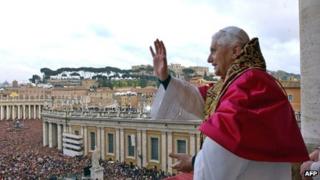 What happens now Pope Benedict XVI has resigned?
It is really rare for a Pope to resign.
In the Middle Ages, Pope Celestine V resigned in 1294, after only five months in the job.
The last pope to resign was Pope Gregory XII in 1415.
At 78, Pope Benedict XVI was the oldest person ever to be chosen as a new pope when he was elected in 2005.
His brother, Georg Ratzinger, said the Pope had been thinking about stepping down for months.
He said that his brother was finding walking difficult and had been told by his doctor not to take big trips abroad.
He added: "His age is weighing on him. At this age my brother wants more rest."
The Vatican have said a new Pope will be elected next month.