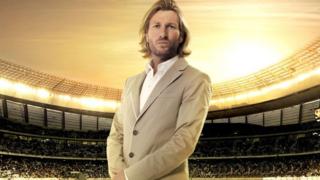 Match fixing 'surprising' - Savage
Former top footballer and TV presenter Robbie Savage has told Newsround he's surprised by reports that hundreds of football matches in Europe are under investigation for alleged match fixing.
European police say that nearly 700 football matches may have been fixed deliberately, including World Cup qualifiers and a Champions League match played in England.
Savage, who played for teams like Derby County, Blackburn Rovers and Birmingham, says he was never asked to fix a match.
"As a player I played over 630 games and in the dressing room I never saw it (match fixing) once, never got offered to fix a game, never heard of a team mate being offered to fix a game."
But he added "It would be quite hard to spot match fixing if you were in a game".
"The vast majority of Premiership players are on good money so it would seem pointless and irrelevant for them to do that, making a few quid on games."
"I'd like to think that the majority of people in English football don't do match fixing because it's not right."
Asked what should happen to any players found guilty of match fixing Savage said: "They should be banned for life. It's not acceptable."
Savage was speaking to Newsround as part of Joe's special report into the latest match fixing scandal.