Pope Benedict XVI has thanked the public for their "love and prayers", as he made his first appearance since announcing he's standing down.
He was cheered by crowds as he entered the hall in Vatican City and began speaking.
He said he resigned "for the good of the Church", as he was no longer strong enough to carry out the work of Pope.
The Vatican has said it expects a new leader of the Catholic Church to be chosen before Easter.
The news came as a shock to many people as it's the first time a Pope's resigned in 600 years.
See more reaction to the Pope's unexpected announcement here..
Choosing the next Pope
Pope Benedict XVI will not take part in the process of choosing his successor, according to his brother.
Georg Ratzinger told the BBC the Pope would only "make himself available" if he were needed.
The way a Pope is chosen is steeped in tradition and involves the most senior members of the Catholic Church voting in a big meeting.
Many people are now talking about who should replace Pope Benedict XVI.
Some are speculating that the new Pope may come from Africa or Latin America for the first time, as these continents are home to many of the world's Catholics.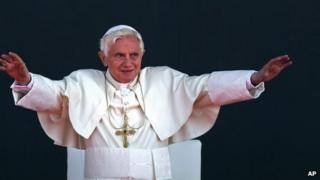 AP
Who is Pope Benedict XVI?
Before becoming Pope, he was known as Cardinal Joseph Ratzinger.
At 78, he was one of the oldest new popes in history when he was voted into the job in 2005.
He took on the role after the death of a very popular Pope, John Paul II, who led the Catholic Church for 27 years.
He faced many challenges, with fewer Catholics attending church services.
In a statement, Pope Benedict XVI said he was getting too weak to perform his duties and felt he had to resign.
Check out Pope Benedict's life in pictures.