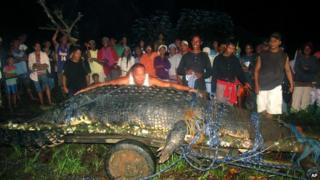 The world's largest crocodile kept in a zoo has died in the Philippines.
Lolong the crocodile measured more than six metres in length and weighed more than 1000kg.
He was officially declared the world's largest crocodile in captivity by Guinness World Records last year.
Lolong was captured in the town of Bunawan in the Philippines two years ago and became a star attraction at a local wildlife park.
Bunawan Mayor Edwin Elorde said Lolong had not been feeling well for a while.
He hopes that Lolong's body can now be preserved: "In that way, people can still look and marvel at him," he said.
Reports are saying the largest saltwater crocodile in captivity record may now pass back to Cassius, a 5.48m reptile housed at a crocodile farm near Cairns in Queensland, Australia.