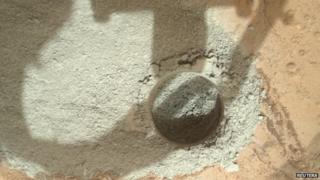 After nearly six months on Mars the Curiosity rover has drilled into the bedrock of the red planet for the first time.
The robot collected a sample of the soil which will be examined in the rover's onboard laboratory to give experts clues on what the planet is made up of.
It's the first time underground rock samples from other planets have been looked at.
They also want to see if they can find any evidence that the planet once sustained life.
Professor John Grotizinger, the mission's chief scientist said; "This is the biggest milestone accomplishment for the Curiosity team since the sky-crane landing last August, another proud day for America."