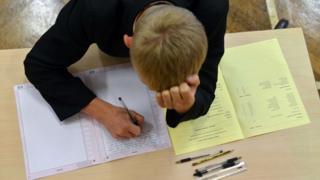 Plans to replace some GCSEs in England with a new tougher exam have been scrapped by the government.
The English Baccalaureate Certificate in English, maths and sciences was due to be introduced in 2015.
But many teachers were against the idea and a report by MPs last week said the changes were being rushed and risked damaging the exam system.
Now Education Secretary Michael Gove, who had wanted to get rid of GCSEs, has now decided to abandon the changes
Mr Gove said his plans for the new exams had been "a bridge too far" which was unlikely to work.
The Labour Party described it as a "humiliating climbdown" for the government.