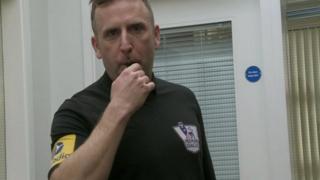 Referees teach good school behaviour
A group of top Premier League referees are swapping the pressure of the stadium for the classroom spotlight.
They're using their experiences from the pitch to run workshops promoting positive behaviour in schools.
Ref Martin Atkinson had this advice for kids: "You can be calm, you can walk away, we're all different, we're all human beings, we've all got feelings.
"But we can avoid conflict by talking to each other."
It's part of a Premier League project called Get On With The Game.
Watch Ricky's report, where he visits a school whose head teacher is a referee when class is over!