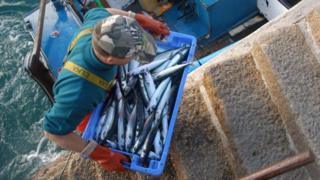 The European Parliament has voted for changes to way the way fish are caught.
The new deal includes plans to protect endangered stocks and ban 'discards' - throwing unwanted dead fish into the sea.
It is believed that a quarter of fish caught are thrown back into the sea under the current Common Fisheries Policy.
The new changes could become law in European waters by next year.
Overfishing
With an estimated 75% of Europe's stocks overfished, supporters of the changes said they would make fishing in Europe more sustainable.
Atlantic bluefin tuna is the most overfished species in European waters and stocks of cod, plaice and sole have fallen by a third in the last twenty years.
However, some fishing groups say the changes are too sudden.
In 2010, fishermen from the European Union's 27 member countries caught almost five million tonnes of fish.