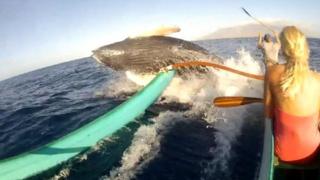 Whale bangs head on canoe
Check out this amazing video of a whale rising up from under a canoe!
A couple from Arizona, USA went on a whale-spotting trip during their holiday in Hawaii - but didn't expect to get this close.
Laurent Lebihan and his girlfriend were on a canoe off the coast of Maui when their boat was hit by a humpback whale surfacing.
Watch the amazing video.