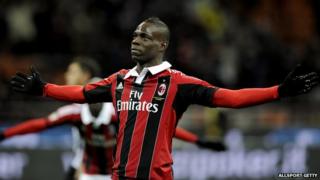 Mario Balotelli has found himself at the centre of a new racism storm, just days after joining the Italian club, AC Milan.
AC Milan vice-president Paolo Berlusconi is accused of using racist language to describe the footballer.
Paolo Berlusconi is the younger brother of former Italian Prime Minister - and AC Milan owner - Silvio Berlusconi.
Balotelli was signed by AC Milan on transfer deadline day from Manchester City for £19 million.
He scored twice on his debut for his new club as Milan beat Udinese 2-1.
Berlusconi's comments were recorded at a political event where he was speaking, and they were posted online by an Italian newspaper.
The incident comes weeks after the AC Milan team abandoned a match when a black team-mate, Kevin Prince-Boateng was subjected to racist abuse by opposition supporters.