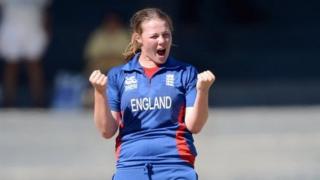 England beat West Indies in the ICC Women's Cricket World Cup by six wickets giving them a place in the next round of the contest.
The first stage of the competition is a round robin contest where the eight teams have been divided into two groups of four. Each team play the teams in their own group.
England was one of the top teams in their group which means they are now through to the Super Six, which is the next stage of the competition.
In the Super Six, the remaining six teams (the top three teams of each group) will play three games. The three from Group A will play against each team in Group B.
The scores from these games are really important because that's how the winners are decided. The two teams with the most points will battle it out in a final to win the World Cup.
Did you know?
- England are the current world champions, they won the last tournament in 2009.
- Australia have won 5 times, that's more than any other team.
- The first women's world cup was held in 1973, that's 2 years before the first men's tournament.
- It's the 40th anniversary of the competition, which has been played 10 times now.