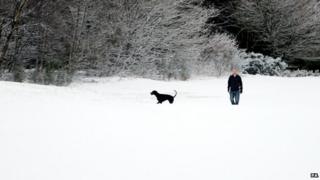 The freezing winter weather is back and causing problems again.
More than 50 schools were closed again in Northern Ireland, just weeks after lots of schools were closed around the UK.
Forecasters say that in some parts of the country, there's more on the way, along with huge gales that are strong enough to knock trees down.
In Scotland and parts of northern England like up in the North Yorkshire Moors, there will be more heavy snow.
In some areas this could mean up to 10 centimetres high.
In Northern Ireland, Wales, northwest Devon and Cornwall it's going to be very, very windy. Some of the gusts will go up to 65mph.
Hold on to your hats!