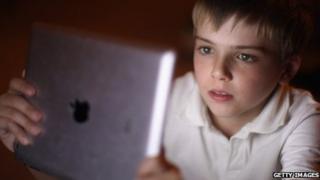 A children's charity think more needs to be done to make sure kids stay safe when using the internet.
The NSPCC says they are seeing more cases of things like cyberbullying than ever, and smartphones are making it easier.
They think that making sure kids are safer online is one of the biggest issues children face.
One of their ideas to deal with it are lessons for five and six year olds on how to stay safe online.
Your comments
"No one deserves to be bullied! My experience of online bullying is on social networking sites such as Facebook, people can send you nasty messages so I suggest you keep away and block them. Keep safe."
Danyal, Leicester, England
"Why do people even want to cyber bully in the first place? They end up in huge trouble and people get hurt."
Chelsea, Devon, England
"At school we are learning about Cyber-Bullying in I.C.T, these facts and tips have really helped."
Annabelle, Devon, England
"I think parents should control what their child is doing by setting parental control and check their child's email. This is what my parents do."
Alissa, Northamptonshire, England
"I think it will be safer if all children are banned from Facebook."
Liam, Berkshire, England