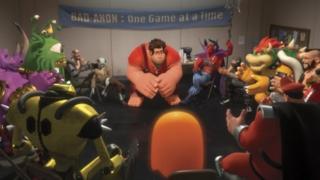 Wreck-It Ralph is an animation about a bad guy called Ralph who is actually a really nice person.
He's fed up of being seen as the bad guy, so he breaks out of his game and goes on an adventure!
There are loads of famous characters from massive computer games you will recognise.
There's Bowzer from Super Mario, Sonic the Hedgehog, Clyde the Pac Man ghost and M Bison from Street Fighter and loads more.
Joe's been to meet the director and actors to show them your ideas for the famous faces you'd like to see if Wreck It Ralph has a sequel!
Comments are now closed, but check out Newsround on Saturday to find out what they thought!
Your Ideas...
"I would like Yoshi to come to life because he would be able to eat all of my vegetables!!!!!"
Imogen, London
"I'd like to see King Kong come to life! And Princess Peach could come to life and I think she'd be very bossy and picky and posh!"
Monica, St Helens
"I'd like to see the guy from temple run, he would be like really tired from running from the creatures. He'd be very enthusiastic and would bring out the treasure he got!"
Jaden, London
"I think in the next movie we should see Steve from Minecraft because everybody loves him and he's very adventure type person and is really brave!!!!"
Dan, Hucclecote
"I think Blanka from street fighter because he's wild and mad I think he would be very funny in the sequel"
Reece, Oxford
"We think that the angry birds should come to life the angry birds look awful but actually could be really kind and scaredy cats"
Melissa and Zack, Yorkshire
"I think I would be Donkey Kong because he can smash and break anything in his way. Also he is a brilliant character and well just really AWESOME."
Callum, Wigton