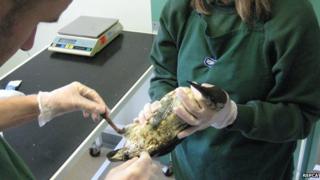 There are fears that more seabirds are at risk from mineral oil spilt off the south coast of England.
Hundreds of seabirds have already died and thousands more have been washed up covered in the mixed oil along the coastline from Cornwall to West Sussex.
The source of the oil is not yet know but a change in wind direction means birds are being blown out to sea into the slick and away from help.
The RSPCA has been treating the birds to get the oil off their feathers.