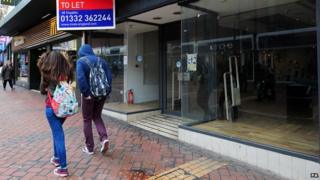 The former boss of Tesco has described the rise of supermarkets and closure of small shops as "part of progress".
Sir Terry Leahy called some High Streets "medieval", saying the way people lived their lives had changed.
He said seeing boarded up local shops was sad, but this happened because shoppers were choosing to go to bigger supermarkets.
The British Independent Retailers Association said 98% of the the UK's £150bn grocery industry was controlled by just nine stores.
We want to know what you think. Does your family go to smaller independent shops or bigger supermarkets?
Do you think shopping in town centres is old fashioned or do you like going to different shops?
Do you agree that out-of-town shopping is more modern?
Your Comments
"High Street shops are handy but the out-of-town ones are more modern and have better shops. Most High Streets are old and the buildings are old as well but there are exceptions such as Oxford/Regent Street in London."
Becky, London, England
"We got to Tesco or ASDA and I think town centres are quite boring but we really need new stores."
Katie, Cumbernauld, Scotland
"I normally go to supermarket but we still go to the High Street every Saturday."
Morven, Nairn, Scotland
"I think that the High Streets are out of date as many shops don't have any business. "
Junaid, Accrington, England
"I love high streets! They are in no way old fashioned."
Katy, Leicester, England
"We shop at smaller shops so that supermarkets don't rule the world. Plus smaller shops sell better quality goods usually, especially butchers!"
Amie, Leeds, England
"High streets aren't out dated they are better than supermarkets."
Harry, West Wickham, England
"It depends on the location and who you are with. With my family I go to supermarket and I go to the High Street with my friends."
Abbey, Oxton, Scotland
"My family go to shops like Tesco and Aldi, but we still go to the town shops, like Marks and Spencer, and Next."
Annabelle, Dumfries, Scotland
"I think some High Streets need to be more modern. Ones near me are really old fashioned."
Hayley, Fareham, England
"When we go shopping and we see a market we usually buy some fruit and veg because it is much fresher. I think supermarkets are good because you can do big shops and buy lots of food all in one place. I think both market stalls and little shops are as important as big brands though."
Elise, Hatfield, England
"I go to big supermarkets and small shops. Some people might like the old fashioned ones and if you close them down they won't be able to go there anymore."
Ellie, Normanton, England
"Our town is like a ghost town, all the shops are shutting apart from pound shops."
Derin, Hemel Hempstead, England
"They are out of date because when you do internet shopping you don't have to move."
Chris, Derby, England
"No way are High Streets 'old fashioned'!! Some people don't have cars, so they can just walk to smaller shops. I think it would be horrible if they closed down."
Ameera, London, England
"I go to my local shops as much as I can. We shop once a week from supermarket but six days a week from the High Street. We should all support High Street shops as they are hard working families."
Jay, Wembley, England
"My family normally go to big supermarkets, we don't go to the city centre or big shopping centres that much anymore. We still go to the High Street as it's easier to shop there than most places. Some of the shops are old fashioned but you can still find cool things there!"
Zahra, Glasgow, Scotland
"I don't think our town is old fashioned, to be honest it's quite modern. The shops are all epic!"
Melissa, Beverley, England
"I like the old fashioned things, it's not always about change and out of date things."
Kirsty, Kent, England
"I think it's really unfair that all the small shops are closing. Most of my favourite shops are in the High Street and I love them."
Ashley, Wigan, England
"I go to the High Street quite a lot but I go to the supermarket too."
Isla, Bracknell, England
I think High Streets are very old fashioned so they need to do a makeover.
Wiktoria, Mitcham, London
"The High Streets are fab! However, the bigger supermarkets do have the fashionable clothes so they are modern. It doesn't make the High Streets any less good. My friends hate the High Streets saying that they are old fashioned and are totally boring, but I think they are wrong. It really depends on the person."
Annie, Oxton, England
"I think that High Street shops are good as sometimes you can get small little things that you can't get anywhere else. If I'm looking for a gift I'll often go there not to a big shop as you get amazing things there."
Elana, Reading, England