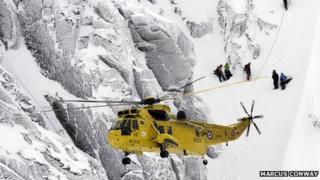 Three people have been rescued after they were hit by a wall of snow sliding down a mountain.
They were climbing in the Cairngorms in Scotland when it happened.
The climbers had to be airlifted to hospital with leg injuries after being hit.
They were lucky not to have been buried by the snow and their injuries are not thought to be serious. Rescuers say it was the second avalanche to happen that day.
Al Gilmour of Cairngorm Mountain Rescue said:
"Three men who were carried about 150m over rocks but they were wearing helmets and, from accounts of the rescue personnel on the hill, that probably saved them."