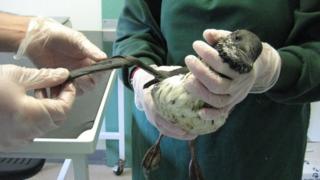 Rescue for birds covered in 'wax'
Hundreds of seabirds have been washed up along the south coast between Dorset and Cornwall.
Coastguards have said birds have been found covered in a sticky, glue-like substance.
The RSPB and RSPCA have launched a rescue operation after around 100 birds were washed ashore.
Some birds have died but rescuers are trying to save others.
Samples have been sent for tests.