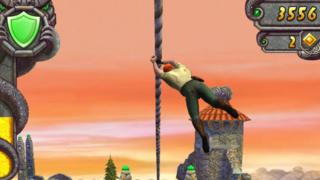 The follow-up to the massively popular Temple Run game has beaten gaming records to become the fastest mobile download game EVER.
Temple Run 2 hit the app stores just 13 days ago but already it's been downloaded more than 50 million times!
This means it's even more popular than the previous record holder, Angry Birds, which took 35 days to hit the 50 million mark.
The original Temple Run game has now been downloaded 170 million times.
The company who made the games was started up by a husband and wife who had a dream to make fun games!