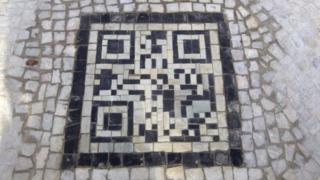 QR codes have been built into tourist spots in the Brazilian city of Rio di Janeiro, as part of plans to help visitors find their way around the city.
The codes are displayed using patterns of small tiles - called mosaics.
Tourists can photograph the mosaic with smartphones or tablets.
An app then takes them to a website with lots of information, including maps and things to see and do.
The city, which will be hosting the next Olympic games in 2016, as well as matches at the FIFA World Cup in 2014, will eventually have the codes across 30 of its historic and interesting sites.