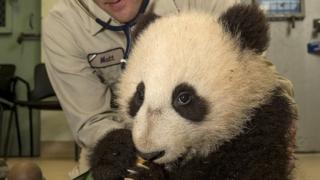 Video: Baby panda health checks
Giant panda cub Xiao Liwu is now on display at the zoo after passing medical tests.
The six month old cub was weighed and measured to make sure he is healthy but he didn't seem to like sitting still for the vets.
It took four people to tackle young Xiao Liwu - which means Little Gift - to get the cub to behave.
It was just a routine check-up for the bear, who was passed fit as a fiddle!