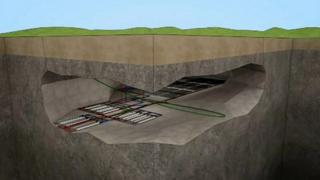 Nuclear waste vote in Cumbria
Nuclear power is used to produce more than one sixth of the UK's electricity - but the radioactive waste from it can be dangerous to humans for thousands of years.
It has to be stored away safely so it's not harmful. The big question is where?
There are plans to build a huge underground bunker for nuclear waste in Cumbria in the north of England.
A vote among Cumbria's councils on Wednesday is deciding whether the plans should be taken to the next stage.
But it's a controversial issue, as Nel's been finding out.