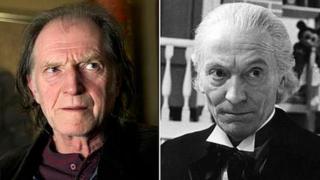 Harry Potter star David Bradley is swapping wizardry for time travel - he's playing the first Doctor, William Hartnell, in a drama celebrating Doctor Who's 50th anniversary.
The one-off drama, An Adventure in Time and Space, will tell the story of how Doctor Who was created in 1963.
You'll probably recognise Bradley as the Hogwarts caretaker Argus Filch in the Potter movies.
He said he was "absolutely thrilled" to get the Doctor Who role.
William Hartnell played the Doctor from 1963 to 1966.
Bradley said: "William Hartnell was one of the finest character actors of our time and as a fan I want to make sure that I do him justice. I'm so looking forward to getting started."
Filming for the special begins in February.
Other events celebrating 50 years of Doctor Who include 11 brand new short stories and special Doctor Who stamps.