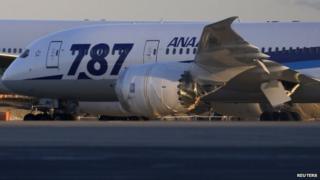 Airline safety inspectors have found no faults with the batteries used on Boeing's 787 Dreamliner planes, Japan has said.
All 50 Dreamliners were grounded across the world earlier this month after a series of safety incidents, including an emergency landing in Japan.
It had been thought the plane batteries were the main cause of the problems.
But now they've been given the all-clear, raising fears there won't be a quick fix for the Boeing planes.
Attention has now moved to the electrical system that keeps track of battery voltage, charging and temperature.