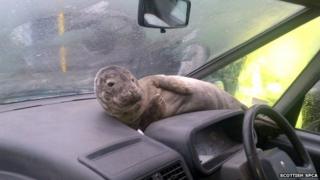 This cheeky six-week-old seal pup has been rescued after being found in a busy lorry park at a ferry port in south-west Scotland.
The port workers who spotted him tried to get him to go back into the water.
But it was really stormy and the seal pup, nicknamed Smartie, was having none of it!
One ferry worker tried to put Smartie in his car boot to keep him safe, but he broke out and was found on the dashboard!
The Scottish SPCA were called in and they took Smartie to one of their centres.
Animal rescue officer Alistair Hill said: "Normally we'd ask people to leave seals alone until we arrive but there was a risk he could have been injured in the busy lorry park so a member of staff put him in their car until I got there.
"He is clearly a very smart seal as he ended up watching the storm out the windscreen of the car from his warm, dry spot on the dash."
Smartie's now doing really well and already feeding himself. It's hoped the pup can return to the wild in about a month's time.