Plans for new super-fast trains that will link London to Manchester and Leeds have been revealed by the government.
The trains will have a top speed of 250 miles an hour, and will cut journey times in half.
It will be the fastest rail network in the UK which supporters say will make the country better connected.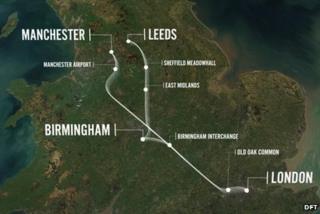 dft
But critics say the rail link will destroy the countryside and cost too much.
We already knew the HS2 rail link would run between London and Birmingham. Today's announcement covers the second part of the route.
The line will travel north of Birmingham in a Y shape, with new stations in Sheffield, Toton near Nottingham and at Manchester Airport.
The UK's rail network was mostly built by the Victorians more than 100 years ago, so many people think it's time for an upgrade.
Building work is due to start in 2017 but we'll have to wait until at least 2032 before we get to try it out!