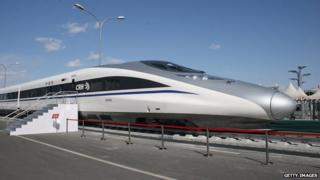 Details for the second part of Britain's HS2 high-speed rail network have been unveiled.
Trains travelling at speeds of up to 250 mph will connect London with Manchester and Leeds by the year 2032.
So the Newsround team have been taking a look at five of the fastest trains on the planet...
1. CRH380A train, China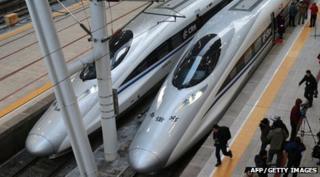 The snappily named CRH380A train (CRH stands for China Railway High-speed!) holds the Guinness World Record for the world's fastest passenger train.
It hit a top speed of 302.05 mph in December 2010, on a stretch of track between Zaozhuang city in Shandong Province and Bengbu city in eastern Anhui Province.
2. 'Floating' maglev MLX01 train, Japan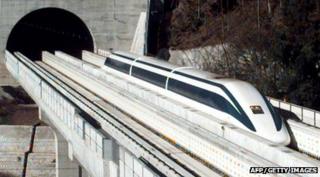 'Floating' maglev (short for magnetically levitated) trains don't have wheels - they use magnetic power to lift them and propel them along the tracks.
A MLX01 maglev train in Japan reached a whopping 361 mph on a test track in December 2003. These trains aren't currently carrying passengers in Japan yet.
3. Shinkansen 'bullet' train, Japan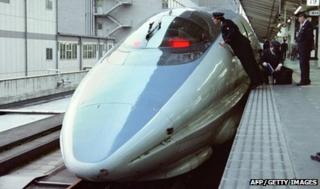 Japan is famous for its super speedy and stylish bullet trains, which were launched in 1964.
A Japanese bullet train holds the record of fastest average speed on a train journey - the 500 Series Nozomi reached an average speed of 162.7 mph on the 119-mile line between Hiroshima and Kokura on the island of Honshu.
4. TGV, France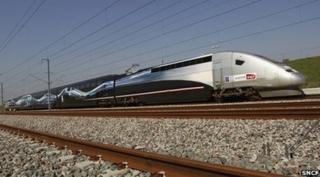 French people have been enjoying 200 mph rail travel since 1981 with TGV, which stands for Train à Grande Vitesse ("high speed train" in English).
A type of TGV called V150 holds the record for the highest speed on any national rail system - it hit a whopping 357.2 mph in April 2007.
5. Mallard steam train, UK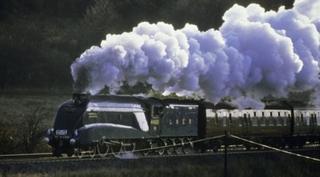 One for fans of more traditional train travel - this is Mallard, the world's fastest steam train!
The A4 class locomotive achieved a speed of 126 mph, hauling seven coaches weighing 243 tonnes down Stoke Bank, near Essendine, between Grantham and Peterborough on 3 July 1938.
Mallard is now on display at the National Railway Museum in York, but three other A4s are in operation in the UK.