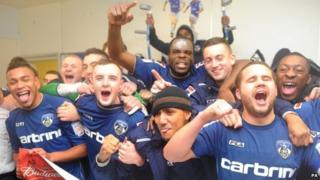 There are more shocks in the FA Cup, with League One side Oldham Athletic knocking out Premier League giants Liverpool 3-2.
Matt Smith took Oldham ahead in the third minute. Luis Suarez then equalised for the Reds, before Smith netted one again just before the break.
Reece Wabara made it a third goal for Oldham. Liverpool's Joe Allen scored in the 80th minute, but it wasn't enough.
Oldham now face Everton in the fifth round.
Liverpool have won the FA Cup seven times before.
Tottenham are another Premier League team who are out - they were beaten 2-1 by Leeds United.
Luke Varney and Ross McCormack both scored for the Championship side, before Clint Dempsey put one in for Spurs.
A late goal from Fernando Torres spared Chelsea the embarrassment of losing to League One side Brentford.
The final score was 2-2, forcing a replay.
On Saturday, Norwich were defeated by Luton Town 1-0 thanks to a late strike from Scott Rendell.
It made Luton Town the first non-league team to knock a top flight side out of the FA Cup since 1989.