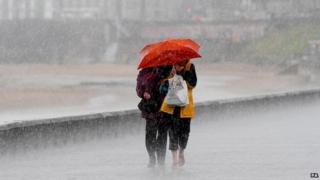 There are warnings of more flooding across the UK this week, with heavy rain and strong winds forecast from Monday.
Melting snow has already caused flooding in several areas over the weekend.
More than 80 flood warnings, which mean flooding is expected, are in place across England and Wales as of Monday morning.
South-west England and south Wales are the areas set to be worst hit.
Rain falling on ground that's already full of water could disruption.
Environment Agency spokesperson Innes Thomson told the BBC: "We've already got flooded fields, we've got localised flooding, we've got high ground water, we've got spring tides this week coming.
"So we've actually got a complete cocktail of issues and concerns for us to keep an eye on."
Forecasters say Northern Ireland and parts of Scotland would see showers early on Monday, with rain falling on most of the UK from Monday evening through to Tuesday.
There are nearly 300 flood alerts in place, which mean possible flooding.