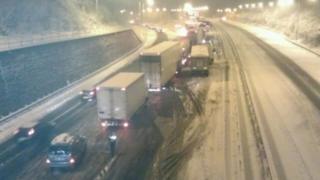 The snow we have seen around the UK over the last week has caused more problems.
Cars couldn't move on parts of the M6 motorway because of a snowstorm on Saturday morning.
In South Wales, emergency services are having to deal with flooding as they tackle heavy rain.
Forecasters have warned that other parts of the UK may have to prepare for flooding - as the weather gets warmer and the snow turns to rain.
The average temperature around in the UK is set to get slightly higher, just enough to see the end of the snow for most people.
So people are being warned to be ready for the chance of floods hitting, and 20 flood alerts have been issued.
But for motorists on the M6, snow was the real problem.
Some had to get out of their cars on Saturday morning as heavy snow meant they couldn't carry on driving.