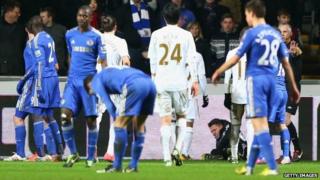 Chelsea midfielder Eden Hazard has been charged with violent conduct by the Football Association, for kicking a ball boy who seemed to be wasting time.
The incident happened during his team's exit from the Capital One Cup against Swansea. Hazard was sent off.
The Chelsea midfielder kicked out as he tried to retrieve the match ball from underneath the ball boy.
Hazard has until 6pm on Tuesday 29 January to appeal against the charge.
After the match the ball boy and his father spoke to the police and decided not to press charges.
Blues boss Rafael Benitez said Hazard and the ball boy apologised to each other after the match.