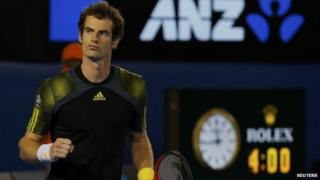 Andy Murray has beaten Roger Federer in a pulsating five-set Australian Open semi-final and will play defending champ Novak Djokovic in Sunday's final.
Murray won the first set 6-4; but Federer fought back to take the second 7-6. Then Murray took the third 6-3.
The fourth set swung back and forth before Federer won the tie-break to force a fifth set.
Murray broke Federer's serve early on in the decider and kept his cool under pressure to win 4-6 7-6 3-6 7-6 2-6.
It's the first time Murray has beaten Roger Federer in a Grand Slam tournament.
Murray beat Federer to win Team GB's 16th gold at the London 2012 Olympics.
Now Murray's through to the Australian Open final for the third time in four years.
Looking back on this latest win over Federer, he said: "It's big. I never beat Roger in a Slam before. It definitely will help with the confidence.
"Just knowing you can win against those guys in big matches definitely helps."
Looking towards Sunday's showdown with Novak Djokovic, Murray said: "I didn't see much of Djokovic's semi-final but I heard he played extremely well.
"This is his third final in a row here and so he plays great here. I will have to play my best to win."
Quiz: How well do you know Andy Murray?
The final will be shown on BBC Two from 8.15am on Sunday morning.