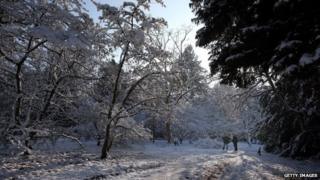 There are more warnings of snow for many parts of the UK on Friday, with travel disruption likely.
Forecasters at the Met Office have issued an amber snow warning, which means be prepared, for much of Scotland, northern and eastern England and the Midlands.
Around 4-8cm of snow is expected to fall widely in those areas.
Strong winds could also lead to drifting and blizzard-like conditions.
The weather is set to get milder and wetter in most place over the weekend.
But there are fears that rain and melting snow could lead to flooding in Wales, Northern Ireland and south-west England.